The idea of reconstructing of Bannockburn's 1819 Key Pattern Book with all the historical data and a modern Wilsons interpretation has been a dream for a long time. In 1985 this wish became a reality when I published The 1819 Key Pattern Book - One Hundred Original Tartans republished with colour plates and amendments. It has since been extensively revised to 82 pages with additional research findings and 22 photographs of Wilsons' cloth and related items.
It is this firm's weaving records for the period up to 1819 that have been compiled in the book along with notes on the colours used by Wilsons, and other details about their weaving techniques. There are also notes about the patterns, how they were named and how some of these names and patterns have changed. I hope that in producing this book showing Wilsons' actual threadcounts and adding my own explanatory notes, those interested in weaving will be able to recreate Wilsons' patterns and techniques. In addition to the actual threadcounts on the 100 named patterns, there is a great deal of historical information and interpretation that makes this book of benefit to those non-weavers who are interested in the history of tartan.
I have taken care to give all the threadcounts, together with the variations in spelling of words and names used by Wilsons which should help the reader to understand more fully the nature of the tartan business at the beginning of the 19th Century, and its subsequent development. The '1819 KPB' represents only a fraction of the patterns that Wilsons were weaving at the time; perhaps these were the most important ones as the name 'Key Patterns' implies. It is possible that these were their stock patterns at the beginning of the 19th century.
This work brings to the public attention tartans such as Rae, Kinnoull and Old Bruce previously known only to a few experts. With a Foreword by Donald MacLaren of MacLaren it is a must for all those interested in tartan and weaving and their place in Scottish socio-economic and cultural history.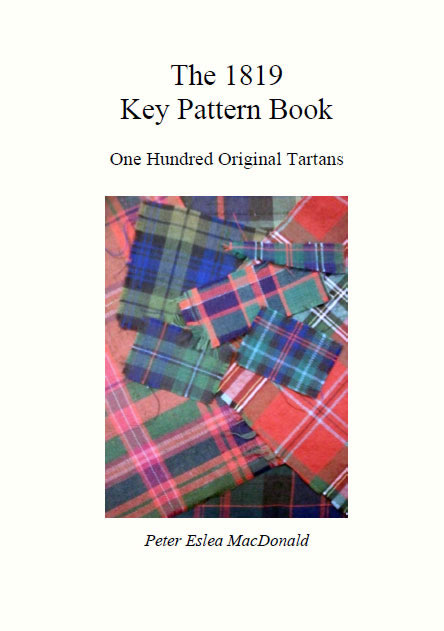 For further information and details on ordering please contact me